Sunflower seed oil has very high taste qualities and is superior to other vegetable oils by sustenance and digestibility. Sunflower seed oil, along with other vegetable oils has many useful properties that make its consumption much more preferable to the use of animal fats.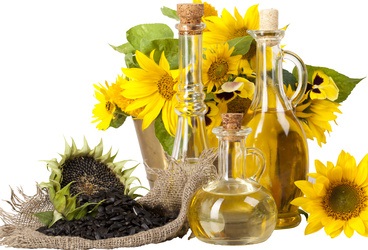 Sunflower seed oil is composed of valuable for body nutrients. It is used directly in food as well as in the production of vegetables and canned fish, margarine, mayonnaise, confectionery products. Uptake of sunflower seed oil is 95-98 %. High-quality sunflower seed oil makes a foundation for products, providing them with useful substances.
Along with other vegetable oils, sunflower oil has many beneficial properties that make its consumption much more preferable to the use of animal fats.
Sunflower seed oil is the main source of liposoluble vitamin E. This is an excellent antioxidant, which protects against atherosclerosis and other cardiac ailments. It supports the immune system, prevents aging and is needed for the work of liver. Vitamin E has an effect on sexual functions and other endocrine glands; it is involved in exchange of proteins and carbohydrates.
Sunflower seed oil improves memory. Also, one of the most important components of the oil is unsaturated fatty acids. They are called vitamin F, which are required for the work of the liver cells, blood vessels and nerve fibers. It also has the power to remove cholesterol, form esters with cholesterol, has a normalizing effect on the blood vessel walls and can be regarded as means for preventing atherosclerosis, myocardial infarction and other cardiovascular diseases.
So what are health benefits of sunflower oil?
The healing properties of  sunflower seed oil are widely used in traditional medicine for the treatment of thrombophlebitis, dental pain, chronic diseases of stomach, intestines, liver and lungs. High oleic sunflower seed oil is used in cosmetic procedures for the preparation of bath infusions, also used for aromatherapy.
Using organic sunflower seed oil in food after the expiration date has negative effects. After some time it forms oxide which violates the metabolism. Try to never take oil from shop windows, because after being in the sunlight the quality of oil becomes worse. Do not buy unchecked butter in the mini-markets at the side of the road.
Do not forget that after strong heating useful properties of oil are lost and after a while it becomes harmful for health. Therefore, never cook using the same oil twice.
The most useful way to use sunflower seed oil is as cooking oil. Fill salads with it. Fresh vegetables and herbs will enrich your body water-soluble vitamins, and sunflower seed oil provides a daily rate of liposoluble vitamins.
Another important detail – only in the presence of lipids beta-carotene turns into vitamin A from vegetables. So, Sunflower seed oil is ideal for filling salads.
There are practically no contraindications. Only try not to exaggerate by using it too much. After all, in 100 g of vegetable oil there are 900 kcal. This is even more than in butter. Doctors also do not recommend the "traditional" methods of purifying the body with oil. This has severe exacerbation of gastrointestinal diseases.